November 7, 2019
9:30 a.m. – 4 p.m.
Thelma Keller Conference Center
1202 North Keller Drive
Effingham, IL 62401
A day of professional development and networking for forward-thinking library staff and trustees
Immerse yourself in a jam-packed day of library learning exclusively for the libraries of Illinois Heartland Library System. Hear what's new, discuss what's trending, find new tools, and meet and share ideas with other library directors, staff, and trustees. Lunch is included! Please note in your registration if you need a vegetarian or gluten-free meal or if you have any ADA needs.
15 conference breakout sessions 
This year, IHLS is bringing you more opportunities to get the information you need. Choose from 15 sessions designed to meet the professional development needs of our multi-type membership and with additional sessions this year for school librarians.
Schedule *updated*
8:30-3:30 (ALL DAY) – Vendors, Office Hours with the CMC and IHLS Delivery, Photobooth
8:30-9:30 – Registration/Breakfast
9:30-10:00 – Welcome
10:00-10:45 – Keynote Session
Speaker Jim Allen, 2020 Vision: Driving Success Through Service
10:55-11:55 – Session 1
Municipal Libraries and their Governance
Understanding Linking for Learning
Best Practices for Grant Writing
What Librarians Need to Know About the Open Meeting Act
Tips for Purchasing
12:00-1:00 – Lunch
1:10-2:10 – Session 2
Is Your Library Levying Enough?
Collaboration, Community & Leadership in the School Library
Improving Accessibility with Talking Books
What Librarians Need to Know About the Freedom of Information Act
Customer Service in Your Library
2:20-3:20 – Session 3
Planning for Minimum Wage
School Library Roundtable
Doing Away with Dewey
Fake News WILL Affect Your Library: Here's How to Deal
How to Increase Circulation by 50%
3:30 PM – Prize Drawings and Closing Remarks
Keynote speaker Jim Allen
2020 Vision: Driving Success Through Service
What is it that is holding your library in the present and keeping you from accessing your brightest future? What do you see as your organization's purpose? How about your own purpose?
Jim Allen is a technology executive, professional speaker and author from St. Louis, Missouri, who helps teams figure out not just what is coming ahead, but also how to shape what is coming next. He'll be joining IHLS Member Day to show us how we, as library professionals at public, school, academic, and special libraries, can lead our organizations into 2020 with a vision based in a service mentality. Learn more about Jim Allen, his work, and his philosophies on his website, GetWiredForService.com, and in his upcoming book, Wired for Service.
Opportunity to make meaningful professional connections
Develop your professional support system by networking with librarians from across the diverse Illinois library landscape.
*NEW THIS YEAR* 
Professional Development Hours for School Librarians
This year, school librarians can earn professional development hours (PDH), required for the upkeep of the School Librarian Licensure, for each designated breakout session attended.
The most cost-effective library conference in central and southern Illinois
Thanks in part to our generous sponsors and vendors, Illinois Heartland Library System is able to bring this one-day conference FREE to the staff of IHLS-member libraries! However, registration is limited to 180 participants. Register early to reserve your spot.
FREE for IHLS members thanks to our generous sponsors
Event Sponsors
Through their generous sponsorship, these vendors helped make Member Day available to our members at no cost to the member libraries. Please consider them when making your next purchasing decisions!
Purchase a shirt to wear at Member Day
This year, attendees can purchase the official Member Day shirt, have it shipped to their homes, and wear it on Member Day. Youth and infant sizes and a selection of colors are also available. Please note: Apparel images shown are approximate; owl print looks best when printed on white and light colors. Order by Oct. 31 if you want to receive them in time to wear on Member Day.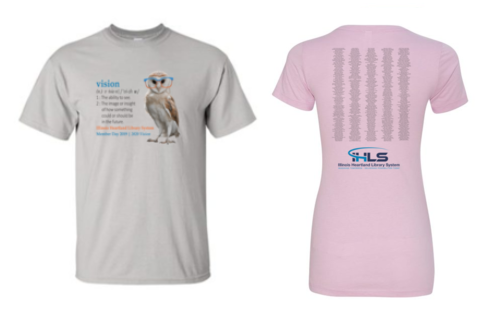 All 524 member libraries are listed on the back!