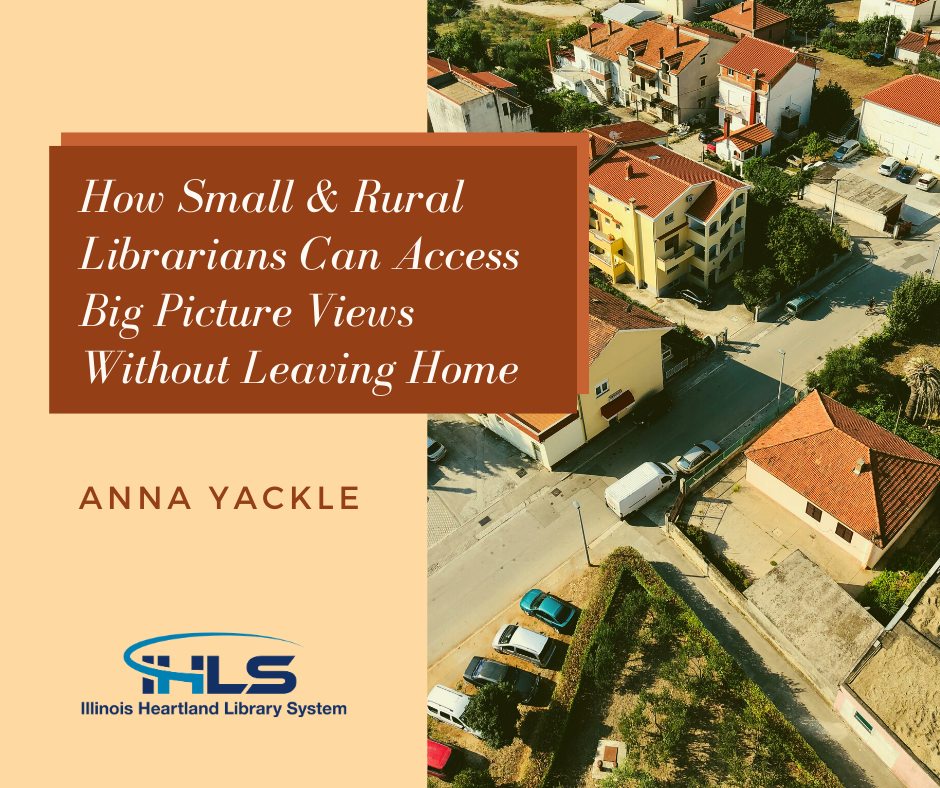 Published 8/27/2020 11:35 AM CT, Updated 8/27/2020 12:27 PM CT
By Anna Yackle, IHLS Membership Coordinator
It's easy to say that professional development is important to the librarian, but it's not always easy to stay current on library issues and trends or to upgrade skills, especially when you're a rural librarian with a small (or no) staff and very limited resources. Yet, free and inexpensive resources do exist, including through the Illinois Library Association (ILA) Small and Rural Libraries Forum, the Association for Rural and Small Libraries, and the Daily Yonder newsletter.
The ILA Small and Rural Libraries Forum will hold its first webinar, Reopening Small and Rural Libraries: What Went Right, What Went Wrong, and What is Next?, on Wednesday, Sept. 2, 10 a.m. to noon. This is a free event. The presenters are:
Please support your fellow thoughtful, creative, leader librarians from across Illinois.
Another excellent opportunity for small and rural libraries is a membership in the Association of Rural and Small Libraries (ARSL). They have many useful resources, an active listserv, and a strong national network of librarians like you. You can join this group and attend their conference for a very economical rate. Membership ranges from $15 to $49. This year you can attend their annual conference, Soar with Libraries: Sharing Our Amazing Resources, online from Sept. 28 to Oct. 2, 2020, for between $45 and $60.
You can join the ILA SARL Forum for a statewide view and ARSL for the national picture. To round out the picture, I would recommend subscribing to the Daily Yonder: Keep It Rural newsletter for current information on issues and trends being experienced by rural communities.