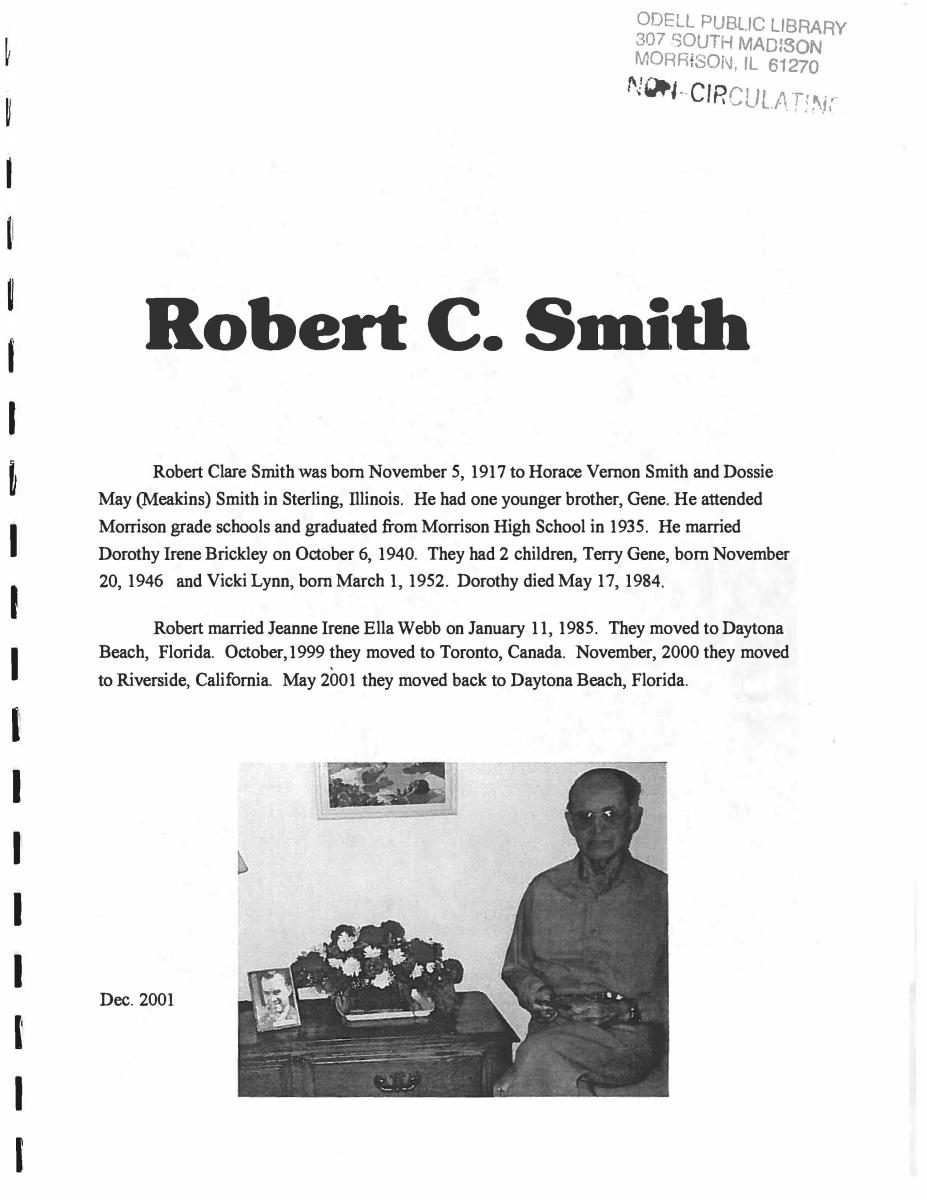 Robert C. Smith Memoir
The CMC recently cataloged a diary/memoir for Robert C. Smith that was donated to the Odell Public Library in Morrison, Illinois by Mr. Smith's daughter, Vicki Wiebenga. Mr. Smith was born in Sterling, Illinois and spent most of his life in Morrison, Illinois. He was a World War II veteran. During his service, he saw combat at Normandy, was wounded in action near St. Lo, France and received a purple heart.
His memoir focuses on the company he started, R. C. Smith Transportation and Scenic Stage Line in Morrison, Illinois; his time in World War II; his cancer and recovery; and his later life as a bellman in Daytona, Florida. Included are transcripts of recorded memories of several friends and family members talking about their memories of Robert.
The CMC catalogs local history and genealogy, books by local authors, and special collections for free for libraries in Illinois, just like this memoir by Mr. Smith.
 
Online with the CMC
In 2018 the CMC started hosting "Online with the CMC". In each session, CMC staff present a short tutorial on a topic and then open it up for discussion and to ask questions.
The next session is: But Wait, There's More!: Added Titles, on Zoom, December 20, from 10-11 a.m. The webinar will be recorded. This session was rescheduled from November 15 and you will need to re-register, if you have not done so already.
Future webinars:
2018 Statistics (1/1/18 – 12/13/18)
2018 has been a busy year for the CMC:
The CMC has completed original cataloging on 1,316 items: 1,166 books, 37 serials, 8 computer files, 17 kits, 15 musical sound recordings, 17 atlases, 34 videorecordings, and 22 other items.
The CMC has enhanced (usually upgraded to RDA) 497 items: 462 books, 17 serials, 8 musical sound recordings, 5 atlases, 4 videorecordings, 1 other item.
If you have a cataloging question or want to know if your collection is eligible for free cataloging, go to illinoisheartland.org/CMC or contact the CMC at (618) 656-3216 ext. 503.