Updated 1/8/2021 12:00 PM CT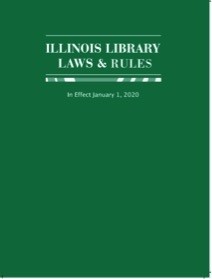 IHLS has made a bulk purchase of the new 2020 Illinois Library Laws and Rules. We strongly recommend all members have at least one copy of this reference tool for your library and your trustees.
2020 ILA Illinois Library Laws & Rules
The updated 2020 ILA Illinois Library Laws & Rules includes all current laws and rules affecting library service in Illinois. A valuable tool for those crafting library administrative policies (librarians, trustees, and governmental officials) in need of current knowledge of the law. The publication reflects all changes to laws affecting libraries passed by the Illinois General Assembly since the previous 2015 edition. It includes an index for easy reference.
Price
1-4 copies = $27.50 each
5+ copies = $26.00 each
Once all our copies are gone, you may purchase a copy from ILA at $30 (ILA member rate) or $50 (ILA non-member rate). 
How to Order & Billing
Please complete the online order form. Libraries will be billed when the books are shipped.