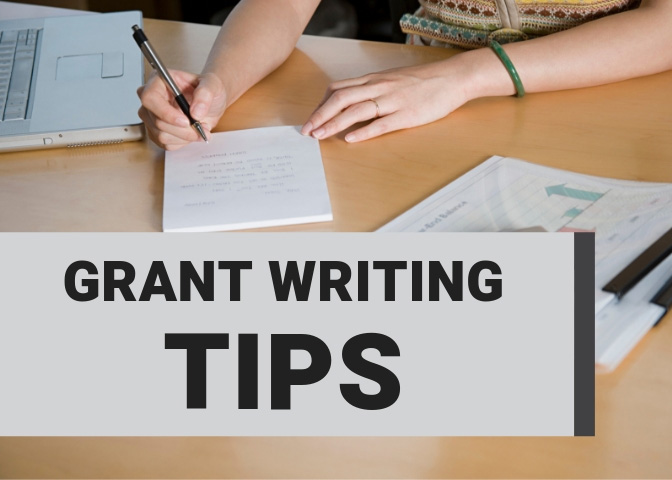 The following information has been provided by the staff at the Illinois State Library with the intent of providing useful tips for writing a successful Project Next Generation grant. However, these tips can easily -- and should -- be applied to any grant the staff of your library wishes to pursue. 
Looking for grants to help your library?  There are several sources of information on grants that could be helpful to you. At the 2019 IHLS Member Day, Chris Dawdy, IHLS Grant Specialist, and Karen Egan, Associate Director for Development at the Illinois State Library, shared several links to Grant Resources. You can view a PDF of their Best Practices in Grant Writing presentation here.
Further, if you need help getting started, need someone to review your proposal before submitting, or just have questions about what to do when writing a grant, feel free to send those questions to Karen (kegan@ilsos.gov) or Chris (cdawdy@illlinoisheartland.org).
Write your abstract last so you truly capture an overview of your program. Focus on the who, what and why of the project.
Include the name of your library, the name of your project and your target audience in the first sentence. The meat of your abstract is an overview of project activities and intentions. End with the results expected. 
In the example below, "where" is inferred - at the library. Include the name and role of your partnering agency only if appropriate. Never mention names of people in the abstract. 
Your abstract will have a word count of 90 – 160 words. No more, no less. The abstract is one paragraph, informational and focused on the big picture perspective. Think of this as if you were writing something that will be published in the newspaper. The example below is 111 words. 
Example: The Cold and Snowy Public Library will offer after-school programming through Project Next Generation (PNG) to provide junior high students with opportunities to learn technology skills in a safe environment. PNG bridges the digital divide by specifically reaching out to students with limited access to technology. Mentors and positive role models will work with approximately 20 students as they learn basic internet searching skills then progress to more advanced, creative software for video editing, music creation, photo manipulation, 3-D modeling and participate in organized, educational field trips. Students will develop self-confidence and improve computer skills, learn about technology-based careers, make new friends and develop a new appreciation for the library.
As you craft your grant proposal application, budget for what is necessary, reasonable and allowable. Use other sections of the application to demonstrate how the people, agencies, services and items budgeted are integral to activities planned.
When drafting your budget, it is critical to use the correct budget lines. Clearly describe your intended use of grant funds so grant reviewers can confirm appropriate use of federal funds.
Salaries, Wages and Benefits. Grant funds may be budgeted for library staff for extra hours scheduled to work directly on PNG activities. Staff can never double dip and earn their normal salary and grant funds for the same hours worked. This should be budgeted at their normal rate of pay including benefits normally paid by the library. List the positions or titles rather than their name.
Consultant Fees. Use this budget line to pay an individual, including mentors or speakers with content expertise; hired through a written agreement with the library to provide or do xyz for a defined period of time. List the name of the person and their field of expertise.
Travel. Educational field trips are appropriate and encouraged. Appropriate expenses may include: bus or van rental; entrance fees to a museum; meals while on travel status; parking; mileage or fuel or associated transportation related expenses. Provide clear descriptions as prompted by the form. Bus tokens for transportationally challenged participants to attend PNG sessions are appropriate; limos are not. Budget as a prudent person would do.
Supplies and Materials. Supplies and materials support the planned activities and their uses should be woven through your project description where appropriate. The cost per item is $4,999 or less, so even a laptop costing $1,500 is considered a supply. List the quantity and cost per item. For example: Sixteen (16) Cannon Pro Shot cameras at $500 each for a total of $8,000. It is okay to group items but give a description if doing so, such as: Consumable program supplies: printer ink, photo paper, pens, paper, flip charts, markers, journals = total $350.
If you purchase computers or any device that connects to the internet, your library must employ filters on all of the library's computers and have an internet safety policy in effect per the Children's Internet Protection Act (CIPA). Confirm compliance with CIPA in the Administrative Capacity section of your application. Those libraries that do not filter comply with CIPA by not purchasing computers or connecting to the internet with grant dollars. There is no wiggle room on this federal law. 
Equipment. The cost per item is $5,000 or more. Generally, PNG programs do not purchase equipment.
Services. Use this budget line if it is necessary to hire a firm, agency or vendor on contract whether for training, services or activities. For example: PC Experts, Ltd. could be hired to work with the students on computer skills. Include the name of the organization and their role in the project.
Administrative Costs and Facilities. (optional) Budget no more than 10% of your direct costs to cover those items that support overall library operations and cannot be directly identified with the PNG program. For example: internet costs (requires CIPA compliance), telephone, security, janitorial services, bookkeeping and audit costs.
Express your outcomes as the intended gain or change in your participants' knowledge, skills, attitudes, behaviors or life condition. Outcomes express the success you expect to achieve as a result of PNG students participating in the activities. We suggest proposing more than one outcome to show the value of your program. 
Write your outcomes from the target audience perspective to show your PNG program is making a difference.   
Make your outcomes measurable by including benchmarks such as percentages or numbers.  

State the expected change or gain in knowledge, skill, attitude, behavior or life condition change. Use an action verb like increase, expand, or improve. 

Identify what the individuals will learn or do as a result. 
For example:  100% of the participants (15) will increase their understanding of the inner workings of a computer.
Briefly summarize the methods or activities that will occur to encourage learning per your outcome. Consider providing more details about these methods in the Project Description section. 
4 sessions will be held to dissect and assemble a computer. 

Mentors will work with the students to identify each computer component and its purpose. 

Students will work in teams to disassemble and assemble a working computer. 
At least one guest speaker will talk with the students about careers in computer repairs and IT support. 
Evaluations provide a means to determine if your outcome was achieved and could include but are not limited to: 
Pre-test and post-test to assess participants starting and ending knowledge of computer parts. 

As the computers are assembled, a flip chart displaying a check list and post-it notes will be used to visually track and evaluate the progress being made.  
Observation to determine if the assembled computers are operational. 
Show the importance of your program by writing outcomes that capture the value in what you are doing. 
If your grant is funded, progress towards meeting your stated outcomes will be reported quarterly. For example: Based on a survey conducted after the second session, 10 out of 15 participants can correctly identify a sound card and mother board 100% of the time. Write your outcomes so they are measurable and realistic!  At the end of the program, you should be able to clearly show if: 100% of the 15 participants did (or did not) increase their understanding of the inner workings of a computer.  
In summary, details matter. The grant reviewers only know what you tell them.