Impressions of the 2nd Annual Library Crawl
Information By Crystal Snyder, Columbia PL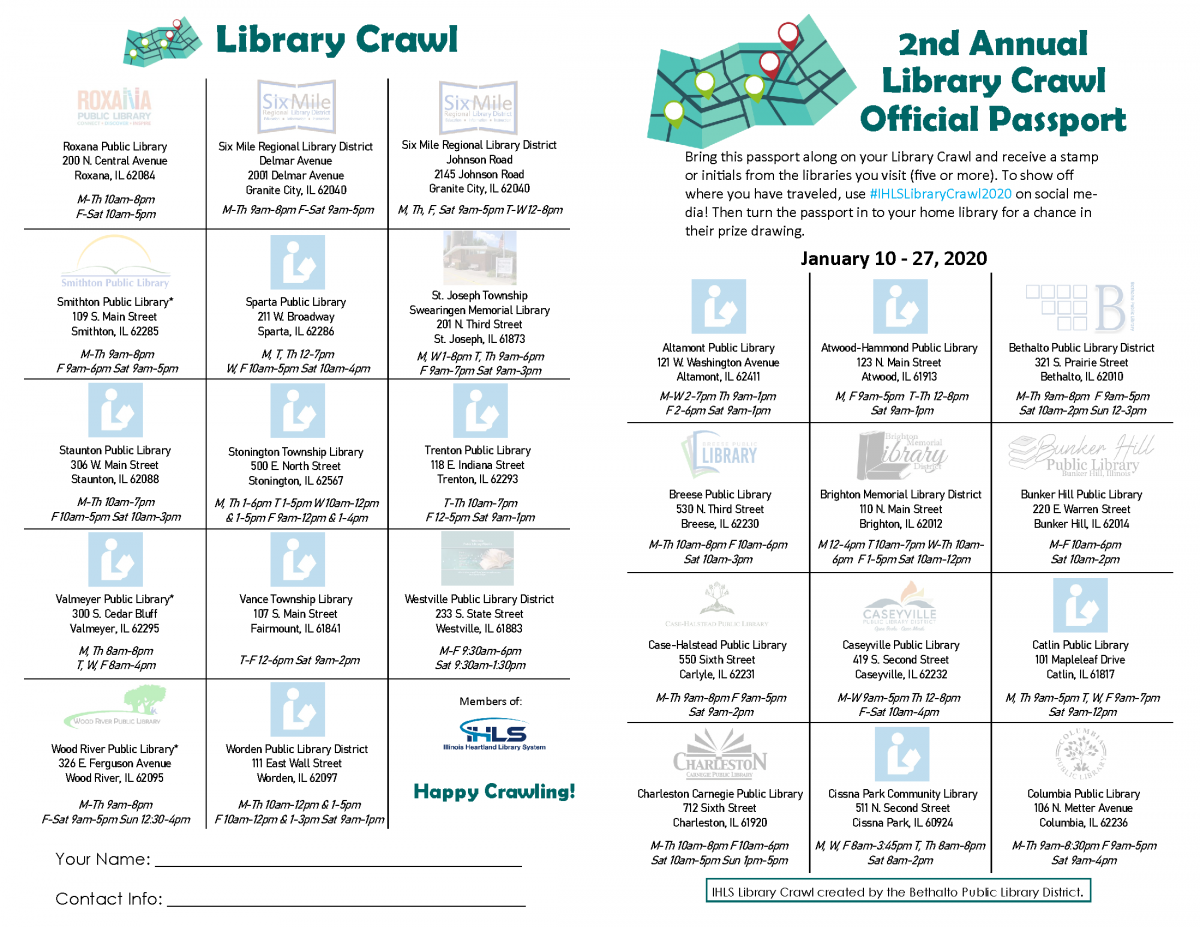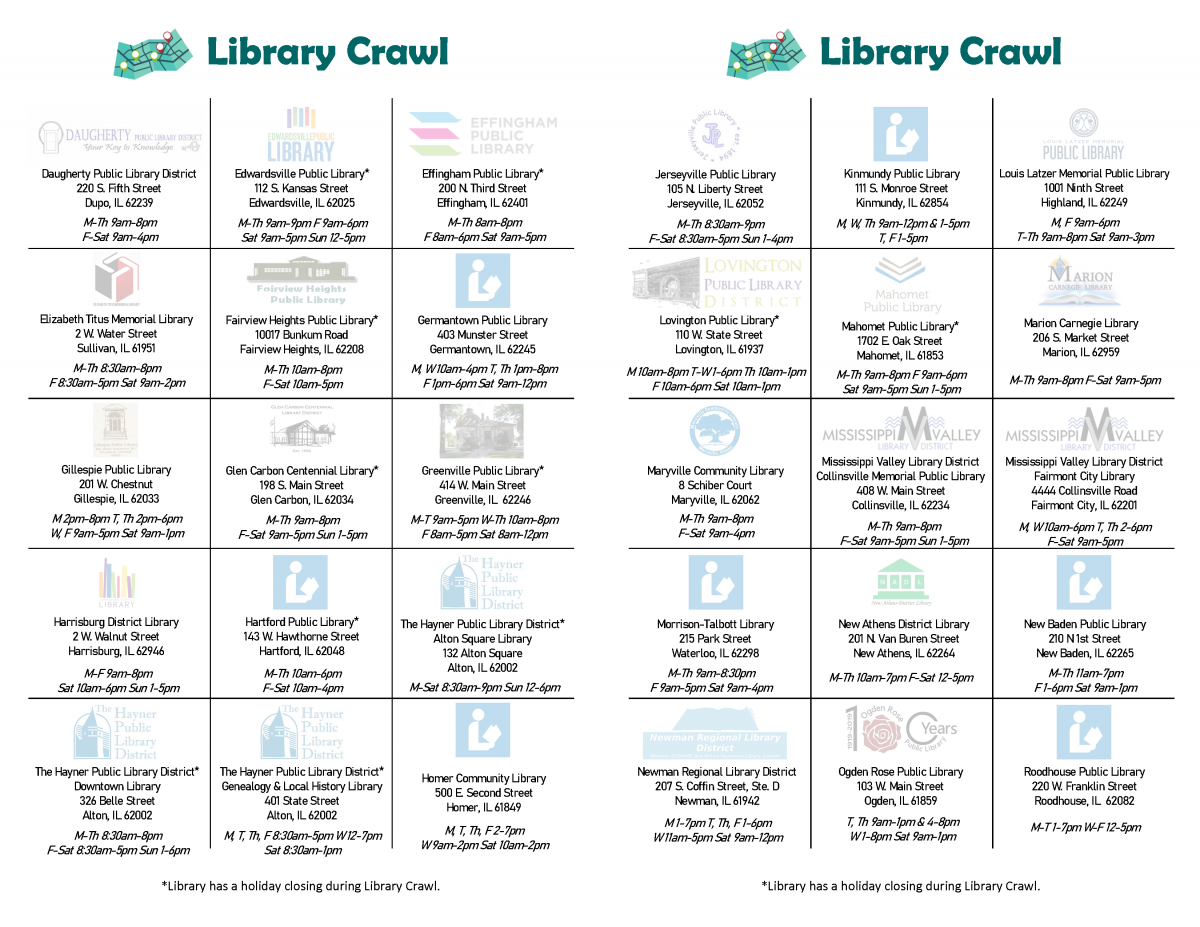 How the Library Crawl Works!
Ja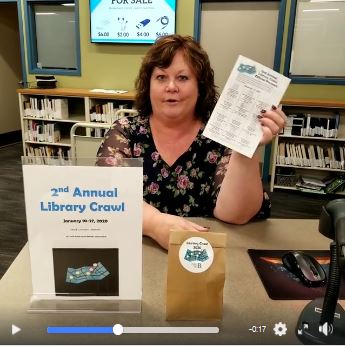 nuary 10-27, 2020, library patrons were encouraged to travel to 56 different libraries throughout southern Illinois in the 2nd Annual Library Crawl. This year, the crawl was extended by 10 days to accommodate these library travelers!
Patrons picked up library passports at their home library and were challenged to travel to five of the 56 libraries for a chance to win a prize at their home library. Bethalto Public Library used a video to share the information with their patrons.
Librarians were ready to go this year with souvenirs that represented their library or the library crawl itself! Many library travelers collected to-go cups, bookmarks, goodie bags, koozies, canvas bags, bracelets, and more.
Patrons that participated looked forward to a fun road trip or the neat prizes libraries were offering, such as gift cards, home library mementos, sports memorabilia, etc.
Like in any good story or road trip, some travelers experienced some obstacles or imperfect conditions along the way.
"215 miles of driving before vehicle stopped due to starter malfunctions determined by good Samaritan and me" read Devin Hunter's notes about his travels. On his most-traveled day, Hunter visited 14 libraries and a broken down car was not about to stop him on his journey he explained to the Columbia, Ill. librarians. In the end, Hunter traveled to 36 libraries and got to have lunch with two librarians.
Cindy McMullen, circulation desk person at Columbia Library remembers a grandmother and her granddaughters one Saturday, "They were driving around that day together and visiting libraries for the library crawl. I was really impressed because it was not a nice day for traveling and yet there they were! What a neat activity for them to do together." 
Preparing for the Crawl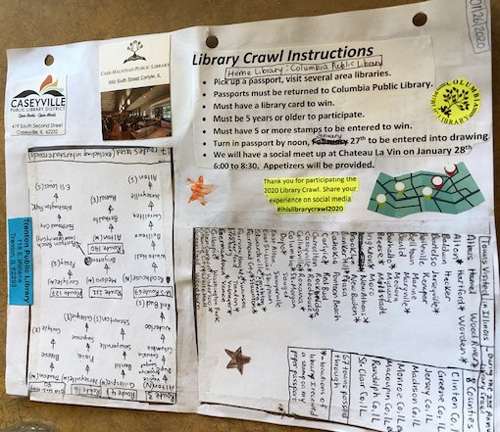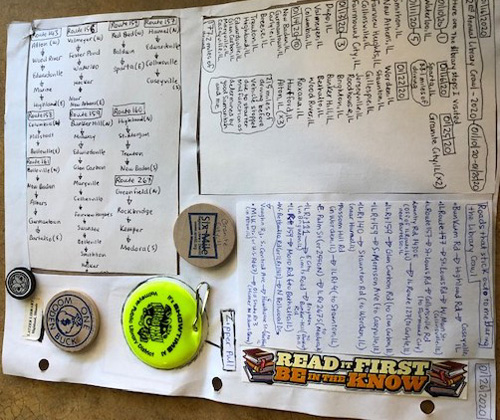 This year, patron participation was across the board in numbers. For instance, Jerseyville Public Library had 7 patrons and 22 visitors, whereas Caseyville Public Library District, an even smaller library and middle of the library crawl territory, had 20 patrons participate with 76 visitors.
"I did talk to some of the visitors--they were all really extra friendly and genuinely asked questions about the building and history.  Some stayed for 5 minutes and some stayed as much as 30. You could definitely spot "visitors"!" exclaimed Chris Maness, Cataloger at Jerseyville Public Library.
The extra time this year not only accommodated patrons, but also enabled library board members and libraries to schedule their own staff to participate in the crawl.
Columbia Public Library staff member Stephane DuVall came back from the library crawl with four pages of notes and many photos of great ideas from other libraries. Some of her neat discoveries included Edwardsville Public Library's basket for reusable bags where patrons could leave or take a bag and their stand with pictures of adoptable animals from the local animal shelter. She also loved how Mississippi Valley Library District is now "Fine Free" on children's items, and that a couple of other libraries have American Girl dolls for patrons to check out.
Libraries and patrons used social media to share news on the crawl by tagging photos with #IHLSLibraryCrawl 2020.
Some patrons visited all 56 libraries!
Despite all odds, Philip, a Hayner Public Library District patron visited all 56 libraries in this year's crawl!

 A  Caseyville Public Library District board member and her husband also visited all 56 libraries.

 

Photo: Philip from Hayner
Here are a few of the winners!
| | | |
| --- | --- | --- |
| | | |
| Chistina won the Edwardsville Public Library grand prize winner! | Bethalto Public Library's winner won a $50 Amazon gift card. | At the Newman Regional Library, a dedicated pair of readers won the pair of Kindle Fires and a lone traveler got the grand prize, an Amazon Kindle e-reader. |
Library crawl participants have provided the library community with positive feedback and is recharging them with new ideas on how to better serve their communities. 
"We can become used to what we offer at our Library so it's good for staff to see people coming in and getting excited by what we offer, whether it's a special item like our telescope or books and displays or programs, or how welcoming our Library feels. It energizes us!" shares Caseyville Public Library District's Community Engagement Librarian MK Dashke.
 
More Library Crawl Visitors!
| | |
| --- | --- |
| | |
| Sue Oerter, Morrison-Talbott Library, participated in the crawl! | Beth visited the Mahomet Public Library. She's a patron at the Urbana Free Library and she volunteers at Homer Public Library. |
| | | |
| --- | --- | --- |
| | | |
| Pam from Vance Township Library made a stop at the Mahomet Public Library | Maureen from Ogden Rose Public Library stopped by the Mahomet Public Library | Becci from Homer Community Library was the first crawl visitor at Mahomet Public Library |
Visitors at the
Lovington Public Library
Visitors at the
Lovington Public Library
IHLS would like to thank the participating libraries for all their hard work to bring such a fun program to library patrons.