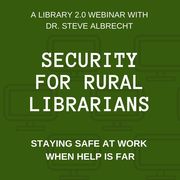 Join us for a 60-minute webinar, recorded in a special Library 2.0 series with Dr. Steve Albrecht, held live on Tuesday, August 13, 2019, at 3:00 p.m. Safety and security options for rural libraries can be different than the options for more urban counterparts. This webinar is here to help. More Information
If you are interested in this webinar, there are two ways to watch.
1) Watch at Your Convenience
This webinar ordinarily costs $98 per person. However, IHLS brokered a discount so that members like you can watch from any computer live OR at your convenience for only $30 per person! With the registration fee, you receive access to the live webinar plus a recording of the session for later viewing.
Register in L2 by 4:00 p.m. August 12 to get the IHLS Discount.
2) Join Us for a Viewing Party
In addition, each IHLS hub will be hosting viewing parties to watch and discuss this webinar FREE on August 13 at 3:00 p.m. Space is limited to 20 participants at each location, so please register in L2 soon!
Be sure to Register