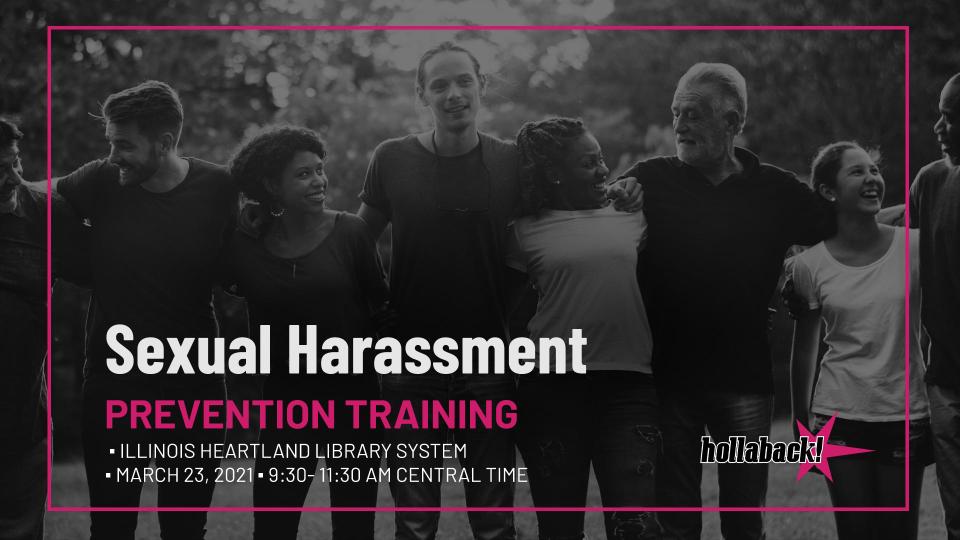 Published 2/8/2021 12:00 PM CT
Sexual Harassment Prevention Training
presented by Hollaback!
Tuesday, March 23, 2021
9:30-11:30 a.m.
For too long, sexual harassment trainings have been designed to tell people what not to do. This training will show attendees how they can show up to build a safe, inclusive, workplace environment.
This sexual harassment prevention training is unique in that it explores all forms of harassment--not just sexual harassment--and includes elements of bystander intervention training. Hollaback's bystander methodology centers on the 5 Ds of bystander intervention, strategies for people to use if they witness harassment at work. The strategies help employees reduce instances of workplace harassment by teaching them to address disrespect head-on long before it escalates to harassment.
This sexual harassment prevention training also meets compliance meets the compliance mandate for the State of Illinois. After completing the training, a certification template will be sent that can be completed for each employee that attended.
Space is limited to 100 participants. This webinar will **not** be recorded.
Tuition
Early Bird Registration: $15.50 when registered by March 1, 2021
General Registration: $20 when registered March 2-21, 2021
This cost covers one viewer. For groups, all group members must be registered individually.
Your library will be invoiced by Illinois Heartland Library System.
Registration closes after 11:59 p.m., Sunday, March 21
Cancellations
Registrants may cancel for a full refund through March 18, 2021.
No cancellations will be accepted or refunds made after 11:59 p.m., Thursday, March 18, 2021.
Registration is transferable with advance notice to IHLS.
Questions
If you have questions about the training or need to transfer your registration, please contact Ellen Popit, 618.656.3216 ext. 624.