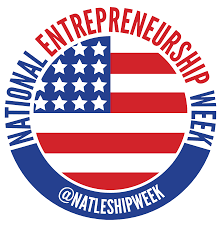 National Entrepreneurship Week (February 16 - 23, 2019) is dedicated to showcasing and supporting entrepreneurship throughout the United States. It is the perfect time to uncover all the ways the library can be a resource for entrepreneurs and small businesses.
By participating in #NatlEshipWeekBy, you will be part of a week long celebration of how libraries, K-12 schools, community colleges, and more all working together to create thriving environments for entrepreneurs.
Each day features a daily theme, i.e., Monday, February 18, will be focused on how your library empowers entrepreneurship education and what training you offer to patrons looking to take their first, next or best idea to market. Tuesday, February 19, will be focused on libraries and incubators.
Register and add your library to the list of participating libraries, and Gale and EveryLibrary will send free promotional tools that can make your social media outreach even bigger.