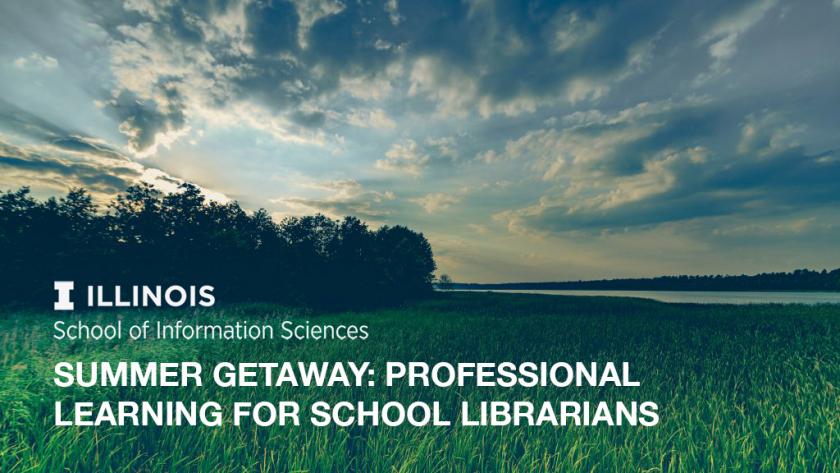 Back by popular demand, Summer Getaway 2019: Professional Learning for School Librarians will be hosted by the University of Illinois' School of Information Sciences from July 11-12, 2019 in Champaign, IL.
This year's conference will allow attendees to dive deeply into state and national library standards, with a special focus on Linking for Learning and AASL's National School Library Standards.  Authentic dialogue, collaboration, and practical application remains at the forefront of the #SG19 experience. Think standards can't be fun?!  I officially challenge you to a librarian duel - fun AND learning will be had!
Please visit our #SG19 conference itinerary to view this year's session descriptions and schedule. Attendees can customize the conference experience, electing to attend for 1 or 2 full days of engaged learning. Up to 7 Professional Development Hours (PDHs) will be offered for each full-day of attendance.
Early Bird Registration is now open! Administrators, school librarians, library paraprofessionals, and current iSchool students are encouraged to attend.  School library professionals are encouraged, though not required, to invite an administrator to attend Thursday's Administrator Academy.
Register by June 15 to receive the discounted, early bird rate and attend for just $50/day.  Brain food (breakfast and lunch) is included in the cost of registration. We encourage current iSchool students to attend Summer Getaway 2019 for a discounted student rate of $10/day.  
Be prepared to pack your bags; you won't want to miss this summer getaway opportunity!
---
Questions?
Contact Ann Ohms, School Librarian Program Coordinator
University of Illinois' School of Information Sciences