Published 1/21/2021 6:50 PM CT, Updated 1/24/2022 1:10 PM CT
2021 is behind us, and that means it's time to announce the top-circulated SHARE cloudLibrary titles of 2021! This year, we're not just giving you one title per category—we're giving you the top three adult fiction, non-fiction, young adult, and juvenile titles of 2021. On to the list!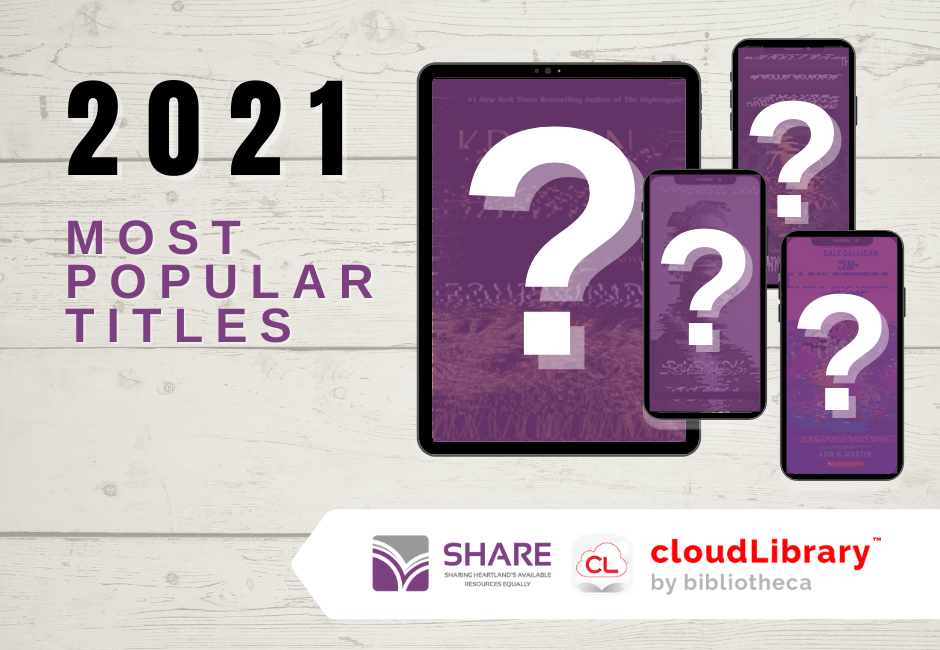 Top-Circulated SHARE cloudLibrary Titles of 2021
Top Fiction Titles
The Four Winds – Kristin Hannah – 303 checkouts (e-book)
Fortune and Glory – Janet Evanovich – 284 checkouts (e-book)
Daylight – David Baldacci – 275 checkouts (e-book)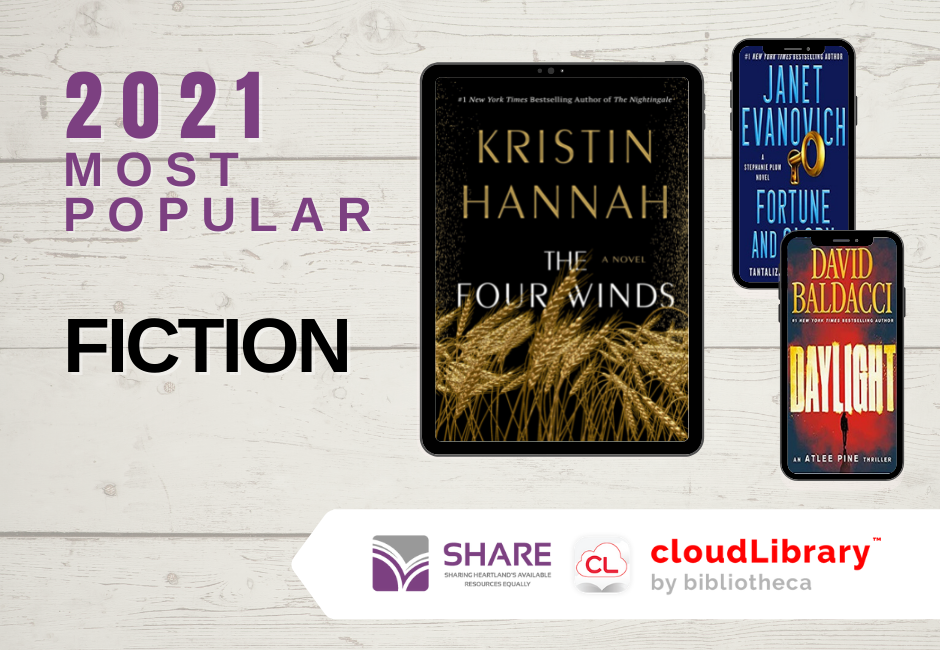 Top Non-Fiction Titles
A Promised Land – Barack Obama – 134 checkouts (e-audiobook)
Greenlights – Matthew McConaughey – 113 checkouts (e-audiobook)
Educated – Tara Westover – 109 checkouts (e-audiobook)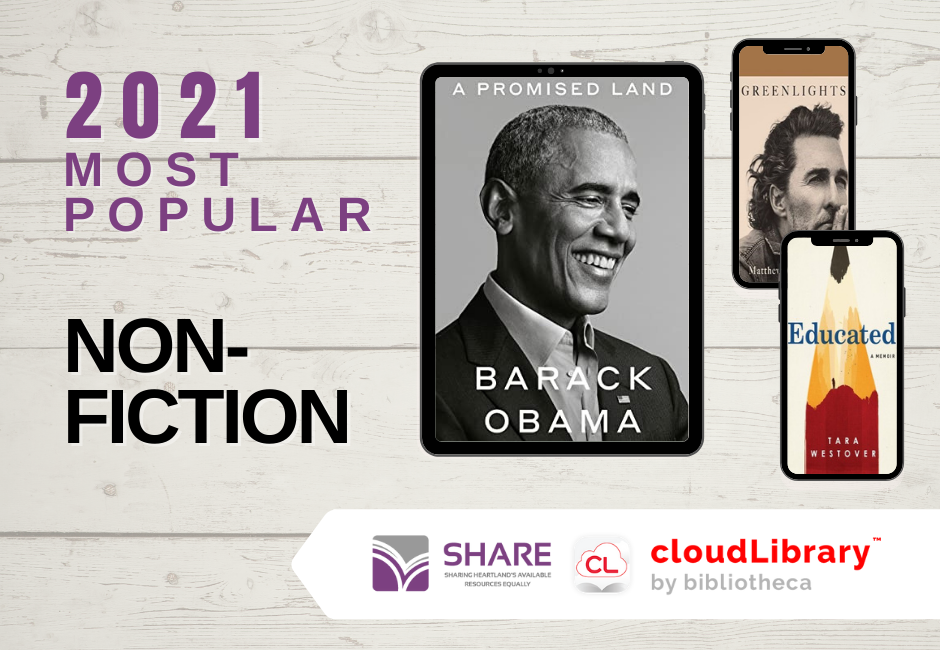 Top Young Adult Titles
The Ballad of Songbirds and Snakes – Suzanne Collins – 158 checkouts (e-book)
A Court of Thorns & Roses – Sarah Maas – 146 checkouts (e-book)
Midnight Sun – Stephenie Meyer – 115 checkouts (e-book)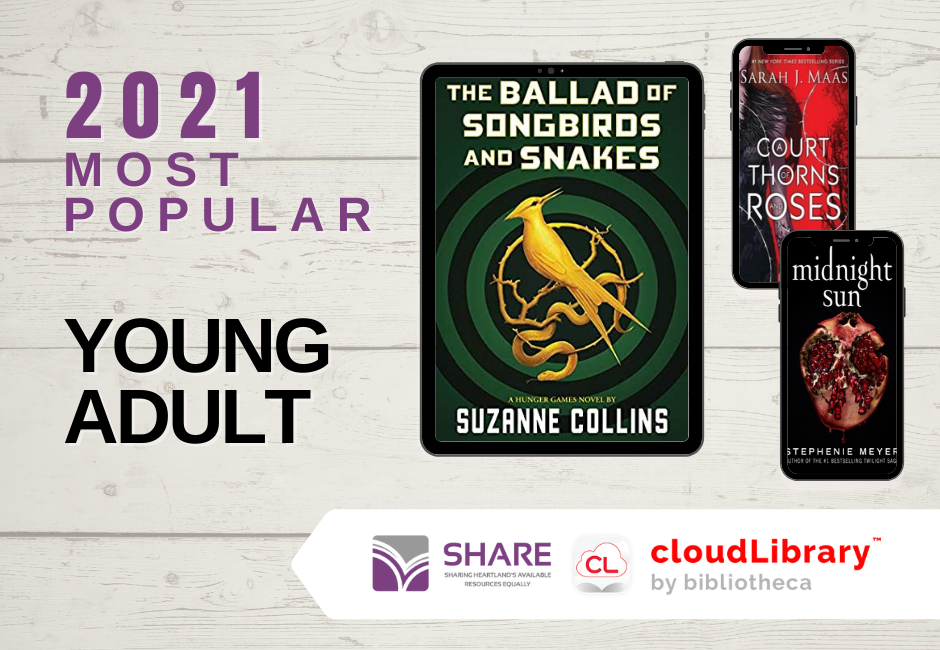 Top Juvenile Fiction Titles
Logan Likes Mary Anne!, a Graphic Novel (The Baby-Sitters Club) – Ann M. Martin, Gale Galligan – 100 checkouts
The Getaway (Diary of A Wimpy Kid) – Jeff Kinney – 95 checkouts
The Deep End (Diary of A Wimpy Kid) – Jeff Kinney – 85 checkouts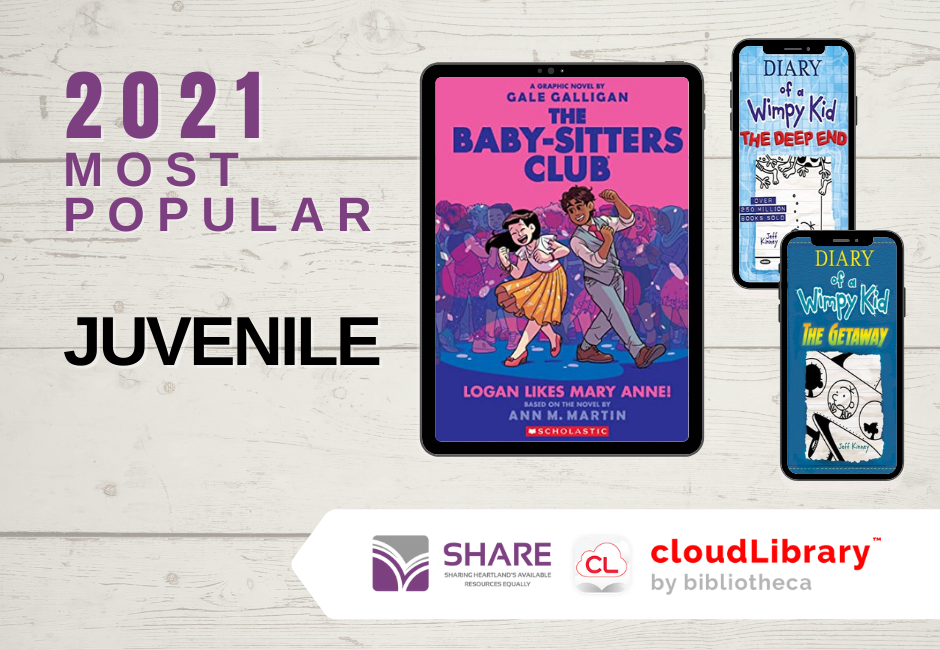 Patrons:
Want to check out one of these titles? If your Illinois library is a member of the SHARE consortium, they may be part of the SHARE cloudLibrary group, too. Look for the cloudLibrary logo on your library's digital collections webpage.
Librarians:
The SHARE cloudLibrary is just one of the e-book and e-audiobook collections available to the patrons of SHARE-member libraries. Librarians can learn more about the SHARE consortium and all of the e-collections available to members at a discounted group rate by contacting SHARE staff at share@illinoisheartland.org.
---
SHARE is the premier library resource-sharing group in southern, southwest, and east-central Illinois and the largest automated library consortium in North America. With 342 member libraries at 474 branch locations, SHARE-member library patrons have access to almost 8.2 million interlibrary loan items. Additionally, the SHARE cloudLibrary digital collection gives participating libraries' patrons access to over 75,500 additional digital titles, available at patrons' fingertips. Patrons can order items from their local library, or any other member library, by walking into a branch, using a web browser, or downloading the SHARE Mobile Library App. Interlibrary items are then delivered to patrons' home libraries, often within days, via Illinois Heartland Library System's interlibrary delivery system.