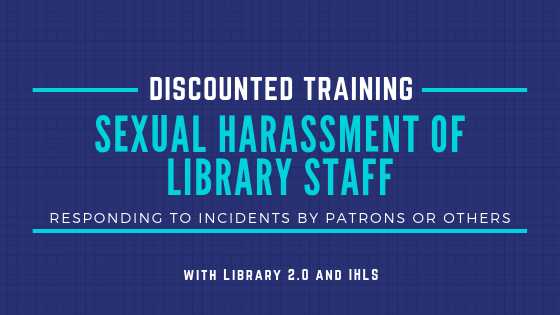 Online training discounted nearly 50%
Tuesday, Sept. 17 • 3 PM
live webinar 
plus access to the on-demand recording
 
Did you know that Illinois passed a state law mandating all Illinois employers provide annual sexual harassment prevention training, effective Jan. 1, 2020?
Get the information you need to share with your staff joining Library 2.0 for a 60-minute live webinar created for all library directors, managers, supervisors, and full- and part-time employees—with tuition nearly half off for IHLS members.
What You Will Learn
The Big Picture: Boundaries, Behaviors, Support, and Consequences
The New Workplace: Expanding the Concept of "Protected Classes"
Hostile Work Environment Examples
Multiple Channels of Reporting
Harassment and Bullying by Patrons: Enough is Enough
When Does Flirting Go Too Far?
Stalking or Staring Behaviors by Patrons
Reviewing Your Agency Policy
Defining Sexual and Racial Harassment
Quid Pro Quo Harassment
Defining Workplace Bullying
The Perils of Gossip
Organizational Red Flags
The Supervisor's Intervention Process
The Employee's Reporting Process: Having the Courage to Tell the Truth
Avoiding Litigation
Safe E-Mail and Social Media Usage
Discounted for Members of Illinois Heartland Library System
This online training is available to the public at $99 per person. However, IHLS members can access this training for only $50 per person. With the registration fee, paid to IHLS, you receive access to the live webinar plus access to the recording of the session for later viewing, which will never expire.
Register in L2 by 3 PM Monday, Sept. 16, to receive the IHLS discounted price. 
Payment Details: After the webinar, IHLS will send your library an invoice for $50. If a minimum number of participants register, the per-person price will decrease and your library will only be charged $30. This negotiated cost is for an individual license. To inquire about a group license, please contact Steve with Library 2.0.
Cancellation Policy: Cancellations must be made in L2 by 3 PM Monday, Sept. 16. Cancellations made before this deadline will not be charged. After this deadline, your library will be charged and no refunds will be issued.
Before the webinar begins: You will receive an email from Library 2.0 (not L2 or IHLS) asking that you create or log in to a free Library 2.0 account. This free account will give you access to both the live webinar AND the archived recording.
Questions? Contact Cassandra Thompson.