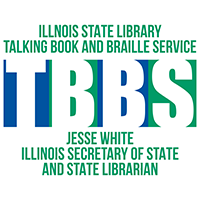 The Illinois State Library manages the Talking Book and Braille Service (TBBS) program. As the Regional Library, TBBS acts as the liaison to the National Library Service for the Blind and Physically Handicapped (NLS) and circulates books to all residents enrolled in the Talking Book and Braille Service. Talking book programs provide library service to individuals who are unable to read standard print due to a visual or physical impairment. Accessible materials (digital audio and braille books and magazines) are conveniently mailed to and from patrons wherever they reside, and the program is tax supported so there is never any out-of-pocket expense for postage or materials.  
TBBS currently serves approximately 12,500 Illinois residents, though many more are eligible. Reader advisors are like personal librarians for talking book patrons and the point of contact for ordering books, managing accounts, and answering any questions.
The TBBS collection contains over 84,000 book titles across all genres, including bestsellers, nonfiction, mysteries, and children's books. Patrons can access over 70 digital magazines, braille materials, foreign language materials, and descriptive DVDs. And just like your public library, if you can't find a book in the collection, it may be available via interlibrary loan. Patrons also have access to over 70,000 titles available for download through the Braille and Audio Reading Download (BARD) catalog and apps.
After applying for service, each patron receives a free digital player to listen to books. Sturdy, portable, and easy to use, the machines are about the size of a hardcover book. The players have large navigation buttons with built-in audio instructions, and the rechargeable battery lasts over 29 hours so books can be enjoyed on the patio or on the go. Additional features include a headphone jack, a USB port, and sleep and bookmark functions.
Reading is for everyone, and talking books provide the stimulation and enrichment people need to maintain independence and stay engaged with their communities.