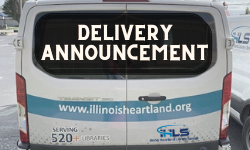 Published 6/24/2021 9:41 AM CT
Good morning! I have received many questions about exchange points. IHLS is still maintaining COVID procedures used before Illinois went to Phase 5. We are continuing to wear masks, wipe high-touch areas, take the temperature of our staff, and keeping the no-contact exchange points. 
We will be evaluating not just the IHLS policy for our staff, but in Delivery, we will be evaluating the exchange points. ...