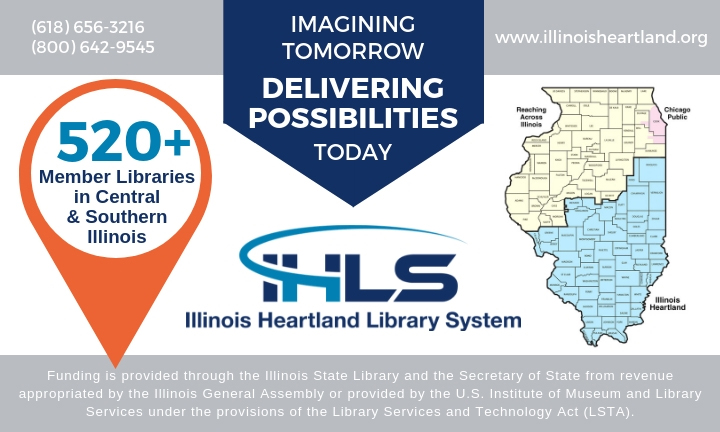 The Illinois Heartland Library System (IHLS) is a not-for-profit library system providing delivery and automation (online catalog software) to the libraries of southern and parts of central Illinois, as well as certain grant program services, such as the Cataloging Maintenance Center to libraries statewide.
---
Vision
Illinois Heartland Library System (IHLS) empowers libraries to embrace innovation and collaboration.
Mission Statement
To support member libraries of all types in providing quality library services. IHLS facilitates access to shared resources, advocates for libraries, promotes innovation and develops community partnerships.
Values
IHLS staff and board commit to the following values in the management and operation of IHLS

Innovation and leadership

We are innovative and creative and exercise leadership in developing programs and services that meet the needs of IHLS diverse multi-type libraries.

Engagement

We engage members and draw on their expertise in the development and improvement of programs and services.

Integrity and Respect

We operate IHLS ethically with accountability and transparency.
Our diverse staff works together with trust and respect for our individual talents in order to provide the best service possible.

Collaboration

We value collaboration among members with other library organizations and community partners.

Communication

We practice clear and open communication with members, staff and other stakeholders.
Goals
Resource Sharing

IHLS facilitates, supports and promotes resource sharing to assist member libraries of all types to be of service to their users.

Member Engagement and Networking

IHLS communicates with and engages member libraries of all types and promotes member networking to assist libraries in improving their services.

Consulting and CE

IHLS provides information and assistance to member libraries of all types through consulting and continuing education to improve the expertise of their staff.

Leadership and Innovation

IHLS provides leadership and embraces innovation to assist member libraries of all types to better serve their users.

Advocacy

IHLS advocates for the role of libraries and library staff to build strong libraries and strong communities.

Stewardship and Sustainability

IHLS stewards its resources to ensure maximum benefit to member libraries of all types and to taxpayers.
IHLS covers 28,141 square miles and serves a population of 2,248,634.
There are 524 member libraries: 30 Academic, 227 Public, 235 School and 32 Special.
Of the 524 IHLS member libraries, 341 at 476 locations participate in the IHLS automation consortium known as SHARE.
​​
---